We are providing a graph of some interesting information about our the number of pages that are viewed by visitors to our website.
The graph has a total of the number of times a page on our website is viewed.
The graph has a total of all unique visits.
The graph has a subtotal of returning visits.
The legend for the graph looks like this: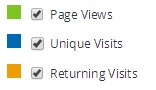 The graph looks like the image below.
If you click on on the image of graph you will see up-to-date information.